The first Tuesday of November typically means campaign slogans, campaign signs and a visit to your local election booth. For Dearborn Special Education Staff it meant exciting professional learning opportunities. In 2017, the Special Education Department hosted a number of professional development for all staff that included the following:
MOVE Training
Mindfulness Training
Para educator module training which included behavior management, understanding inclusion and much more
Staff training on Extended School Year and Behavior Intervention Plans
First annual Wayne RESA POHI conference.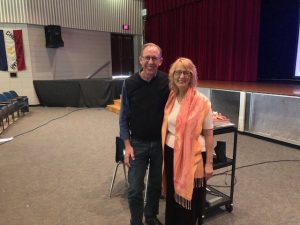 The Importance of Mindfulness  11/7/17
Dr. Mary Spence of the Michigan Collaboration for Mindfulness Education (MC4ME) in Ann Arbor gave an introduction to using Mindfulness in the school environment with staff from the Special Education Department on Tuesday the 7th of November.   She reviewed the history of mindfulness and the physical, educational and mental health benefits associated with it. She noted that mindfulness is not a specific technique but a practice, it is a way of viewing oneself and one's environment and is most effective when the guide has incorporated this mindfulness into their own life.
Dr. Spence demonstrated two techniques with the group for guiding oneself into the practice of mindfulness.   She also shared information from a variety of state resources/organizations specific to children, adolescents and the school environment.
Thank You: David Barbour and Stacy Rumler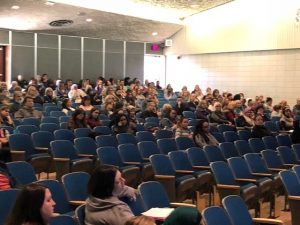 Extended School Year
In our continuing series on IEP compliance and best practices, we dug deeper into Extended School Year.  While Extended School Year remains the exception, not the norm, it must be considered at each and every IEP.  Extended School Year is determined by:
* (1) (a) significant regression on goals and objectives and an inability to recoup skills in these areas within a reasonable period of time, and
(b) if the student is in a functional curriculum (nature and severity of disability) and one or more annual goals address functional skills, and
(c) if the student has unique educational needs that cannot be adequately addressed during the regular school year.
*(2) the critical nature of the skill(s) addressed by the annual goal(s), the student's age and level of development, and the timeliness for teaching the skill, if a break in instruction would prevent the student from making reasonable progress toward self-sufficiency and identified in one or more current goals (critical stage of learning).
Decisions are based on data that is longitudinal in nature. ESY is not summer school but delivered through a variety of service approaches.
A flowchart to assist in this process will be available in iLearn.
The new IEP checklist was reviewed.
Thank You: Julie Stahl and Carrie Schoolmaster
Functional Behavior Assessment and Behavior Intervention Plans
The Functional Behavior Assessment (FBA) and the Behavior Intervention Plan (BIP) are formal ways teachers, support staff, administrators, and parents can work collaboratively to determine the best way to help a student behaviorally. It is used for students who are not successful with typical behavior supports or school wide positive behavior interventions. This is a two portion process that is conducted by the participants to determine the extra supports required to ensure the students success in school.
The first portion of this process is the Functional Behavior Assessment. It is the process for collecting data to define the target behaviors and the function of the behaviors. All participants work together to gather data to formulate a hypothesis to why the behavior is occurring. This process then helps formulate the second portion of the entire process, the Behavior Intervention Plan. The Behavior Intervention Plan is the actual plan that is created to improve the behaviors. The plan clearly defines the behaviors and  incorporates strategies for prevention, replacement behavior instruction, positive reinforcement, planned consequences, and home interventions.
The Functional Behavior Assessment (FBA) and Behavior Intervention Plan (BIP) can be used for students in Special Education and General Education. It can be initiated when a student exhibits a pattern of behavior that impedes/interferes with his/her own learning or that of others. It is often seen as an effective intervention process to help improve behaviors and learning overall.
Thank you Faziah Nassar, Amy Swiss, Alia Beydoun, Mona Berry, Haoura Rizk and Zaynab Boussi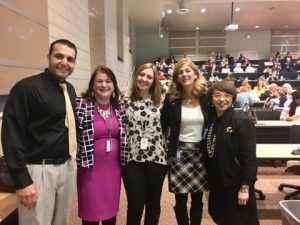 POHI Countywide Conference 
Wayne County RESA is hosted its first annual Countywide
professional development for our POHI professional
staff in Dearborn. POHI educators, paraprofessionals, and related
service staff will have an opportunity to learn and explore
new instructional strategies and medical supports from
community experts and their fellow colleagues. During
our full day of learning and fun, participates will engage
and explore
 Current Medical Advances and Encouragement via
our Keynote Speaker, Dr. Ahmed A. Bazzi,
Pediatric Orthopedic Surgery of Children's Hospital
of Michigan
 Strategies and Interventions for Gross and Fine
Motor Skills
 Conversations with former students with POHI
 Assistive Technology Tools to enhance and support
learning for students with physical impairments
 Brain Gym activities
 STAND Program
 Vendor Display
Thank You: Courney Pletzke and Dr. Rola Bazzi-Gates